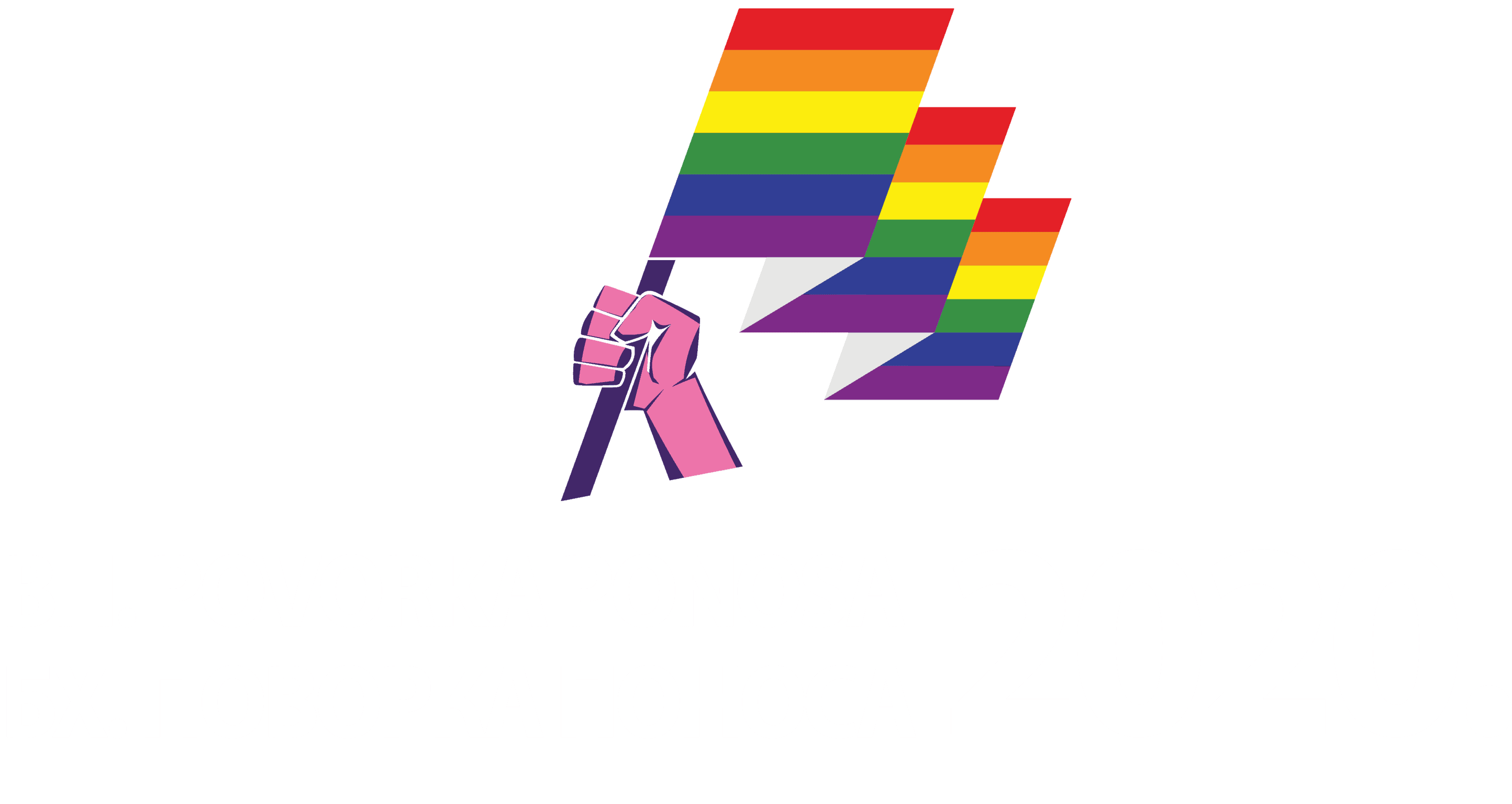 ABOUT THE BIH PRIDE MARCH
The Bosnian-Herzegovinian (BiH) Pride March is a protest against inequality and violations of the human rights of lesbian, gay, bisexual, trans, intersex and queer people. The Pride March is our way of fighting against widespread violence. It is our way of demanding equal access to public spaces that we are entitled to as citizens.
The Pride March is among the most important and influential acts of activism that accelerate positive change and advance the quality of life of the LGBTIQ population, as evidenced by previous pride marches held in the region and other parts of the world.
General
and safety instructions
 Additional info will be published soon.
The initiative to organize the BiH Pride March came from a group of activists from all over the country (Prijedor, Banja Luka, Sarajevo, Jajce, Tuzla). The Organizing Committee currently consists of 20 people who joined the Committee voluntarily and have pledged to uphold the basic principles and values of the Pride March. Members of the Organizing Committee act independently, as volunteers, and do not represent any business entities, local or international organizations, or political parties.
The BiH Pride March is rooted in the principles and values of antifacism, equality, solidarity, freedom, social justice, self-determination, secularity, inclusivity, antimilitarism, the rule of law, openess to dialogue and non-violent communication.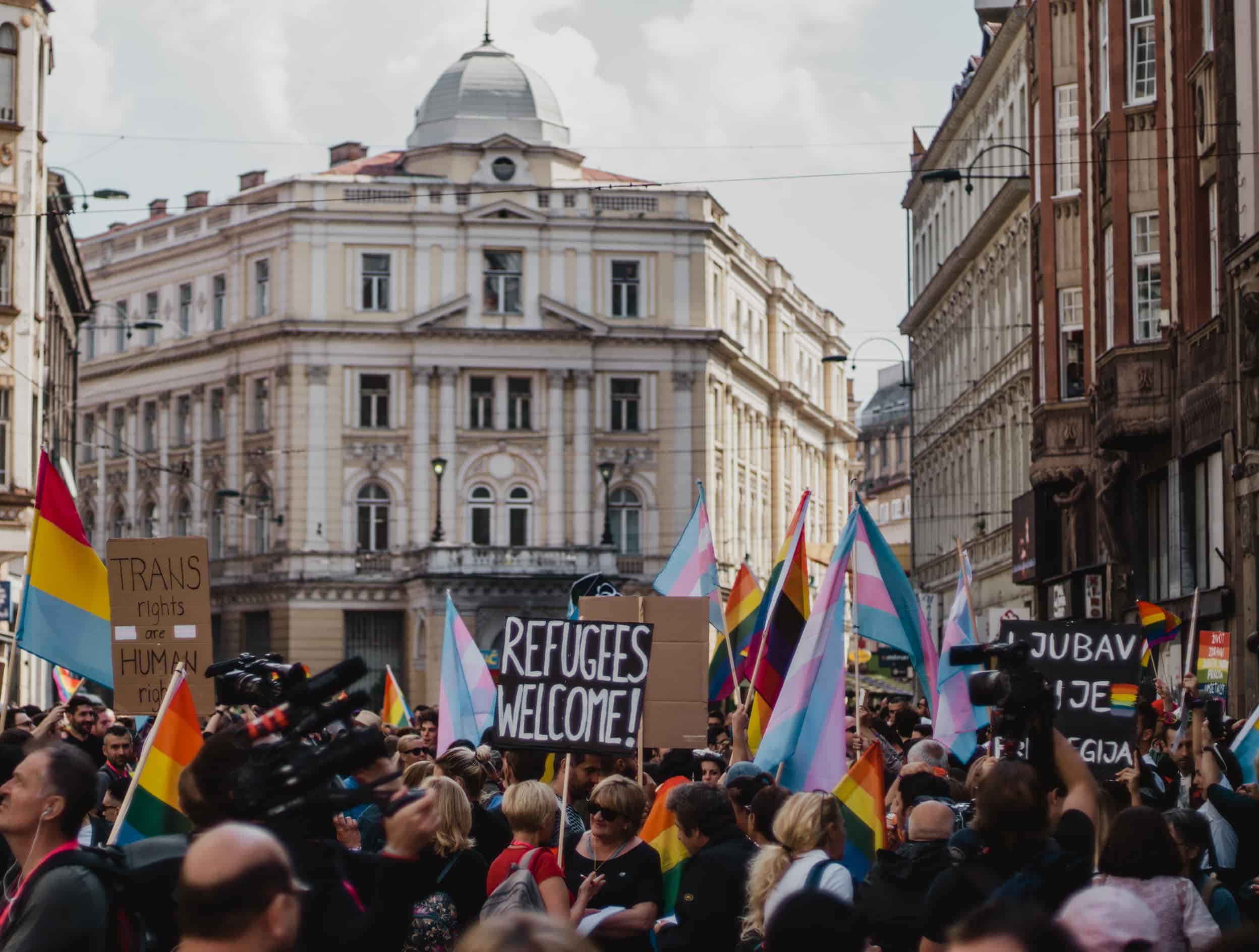 Invisibility, isolation, lack of recognition, exclusion, and violence, in both the private and the public spheres, are the biggest problems for the LGBTIQ population in BiH. Most LGBTIQ people decide against revealing their sexual orientation, gender identity or sex characteristics to their families for fear of violence and rejection, which forces them to conceal a part of their life and the people they love. As LGBTIQ people, we are prevented from living openly and expressing our identities in public spaces—be it streets, workplaces, schools, institutions or cafes.
We are denied a safe space for conversing, meeting, socialising and living. We face fear and exclusion. We are forced to hide in order to avoid discrimination, insult, firing, and rejection from our family members, colleagues and other people. We are exposed to verbal, psychological and physical violence every time we show our identity. Our bodily integrity is in danger, and so is our right to life.
The widespread homo/bi/transpobia, patriarchy, sexism, gender inequality and lack of interest on the part of institutions to actively combat violence and inequality are the main reasons for the invisibility of LGBTIQ people.
The Pride March is an important opportunity to change these unacceptable conditions, reduce the fear of violence and exclusion, inform the general public about the inequality, discrimination and violence that LGBTIQ people are exposed to, send a message of diversity, and demand equality and freedom.
The time of the pandemic, uncertainty, and life within four walls has not been easy for anyone. This period has, in a pictorial manner, reminded all of us what it means to be separated from society, family, and friends; just like constantly being scared for the safety of people we love and not being able to see people who are close to us. This has shown us that life cannot exist within four walls.
Life in isolation has brought to surface strategic challenges of life within four walls: from difficulties in organization of life in isolation, lack of a support system, apathy and difficulties in communication between family members, to coping with fears and an increase in percentage of domestic violence, violence against women, violence against children and the elderly.
On the other hand, isolation and violence is not a novelty to LGBTIQ people. We have been experiencing that throughout our whole lives and that is why we think it is important that we keep on marching to be present in public space, and to be a reminder that we exist and that we demand rights
Get the latest updates and stay informed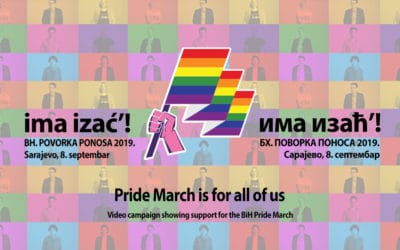 Pride March is for all of us Video campaign showing support for the BiH Pride March This year marks the fiftieth anniversary of the first ever pride march. In New York, on 28 June 1969, LGBTIQ persons rebelled against daily oppression. They took to the streets and...
The BiH Pride March is open to everyone and will take place on August 23rd in Sarajevo. It will consist of a protest march and rally with speeches given by LGBTIQ activists.
More information about the Pride March will be released in the coming months.
Members of the Organizing Committee:
Amar Ćatović, Vanja Stokić, Dajana Bakić, Ena Hasković, Kerim Hodžić, Melani Isović, Jadranka Milićević, Verda Dolarević, Elmaja Bavčić, Ena Bavčić, Milica Pralica, Branko Ćulibrk, Maida Zagorac, Ajdin Arnautović, Bisera Hodžić, Emina Bošnjak, Azra Ćulov, Mirza Halilčević, Lejla Huremović.
FOLLOW US ON SOCIAL MEDIA