BH. POVORKA PONOSA
БX. ПOBOPKA ПOHOCA
BIH PRIDE MARCH
ABOUT THE BIH PRIDE MARCH
The Bosnian-Herzegovinian (BiH) Pride March is a protest against inequality and violations of the human rights of lesbian, gay, bisexual, trans, intersex and queer people. The Pride March is our way of fighting against widespread violence. It is our way of demanding equal access to public spaces that we are entitled to as citizens.
The Pride March is among the most important and influential acts of activism that accelerate positive change and advance the quality of life of the LGBTIQ population, as evidenced by previous pride marches held in the region and other parts of the world.
The initiative to organize the BiH Pride March came from a group of activists from all over the country (Prijedor, Banja Luka, Sarajevo, Jajce, Tuzla). The Organizing Committee currently consists of 20 people who joined the Committee voluntarily and have pledged to uphold the basic principles and values of the Pride March. Members of the Organizing Committee act independently, as volunteers, and do not represent any business entities, local or international organizations, or political parties.
The BiH Pride March is rooted in the principles and values of antifacism, equality, solidarity, freedom, social justice, self-determination, secularity, inclusivity, antimilitarism, the rule of law, openess to dialogue and non-violent communication.
The BiH Pride March has been established to tackle the lack of mobilizing platforms in BiH that empowers human rights defenders and fosters an independent and participatory approach to the organization of events. The BiH Pride March Organizing Committee (OC) is an informal body of volunteers, not representing organizations but involved in their personal capacity. Each year, an open call for applications is issued, inviting all interested BiH citizens to apply and become a part of the organizing team. Membership is on a voluntary basis and all decisions are taken in consensus.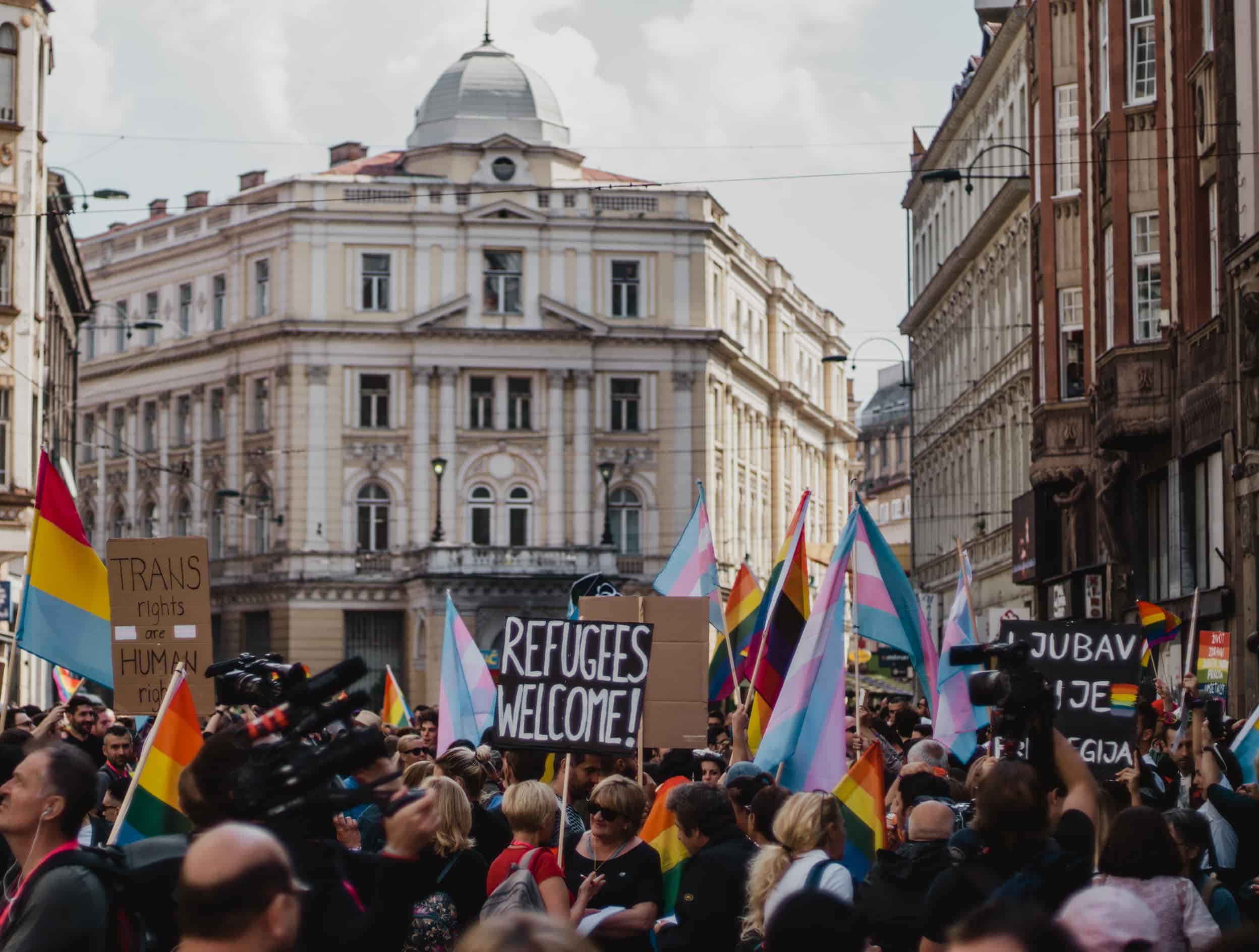 Dozens of people passed through the organizing committee in just four years, many of which became activists for the first time through our team. We are proud that some of them continued their activist path during this year as well. The organizing committee is composed of all generations, genders and gender identities, as well as various activist and professional backgrounds. Each of the members contributes to the creation and organization of the BiH Pride March. We are especially proud that many LGBTIQ people have decided to be part of the committee and through this form of activism to get involved in the fight for the rights of LGBTIQ people for the first time.
***
Invisibility, isolation, lack of recognition, exclusion, and violence, in both the private and the public spheres, are the biggest problems for the LGBTIQ population in BiH. Most LGBTIQ people decide against revealing their sexual orientation, gender identity or sex characteristics to their families for fear of violence and rejection, which forces them to conceal a part of their life and the people they love. As LGBTIQ people, we are prevented from living openly and expressing our identities in public spaces—be it streets, workplaces, schools, institutions or cafes.
 We are denied a safe space for conversing, meeting, socialising and living. We face fear and exclusion. We are forced to hide in order to avoid discrimination, insult, firing, and rejection from our family members, colleagues and other people. We are exposed to verbal, psychological and physical violence every time we show our identity. Our bodily integrity is in danger, and so is our right to life.
The widespread homo/bi/transpobia, patriarchy, sexism, gender inequality and lack of interest on the part of institutions to actively combat violence and inequality are the main reasons for the invisibility of LGBTIQ people.
The Pride March is an important opportunity to change these unacceptable conditions, reduce the fear of violence and exclusion, inform the general public about the inequality, discrimination and violence that LGBTIQ people are exposed to, send a message of diversity, and demand equality and freedom.
On the fourth BiH Pride March we march Proud together!
Pride is one of the primary emotions inborn in every individual and it implies complete self-respect, including all of one's identities and characteristics. Unfortunately, we still live in a society where the rights and lives of LGBTIQ+ people are disputed and where they are pushed to the margins of society in an attempt to take away their dignity and pride. The word Pride is used in parades across the world, while a pride parade itself is a protest, a march, a walk, but also a celebration. To us, the Pride March is a political protest, through which we also celebrate our victories; because living authentically and fighting homo/bi/trans/interphobia certainly creates a cause and space for celebration. It is important to protest and live proudly and with dignity.
About the theme of this year's pride march
The theme of this year's, the fourth in total, Bosnian and Herzegovinian Pride March is allyship/supporters. We discuss this topic every year, because allyship and support lie at the heart of the fight for human rights, the fight for a better life for every marginalized group in our society. Through our interviews with the LGBTIQ+ community, we have received undoubtful assurance that allyship and support increase each year, however, allies often give their support partially or with reservation. We often witness that this support is bound within four walls and does not lie outside of them. Our friends often give support within our circles, without reacting to discrimination, offensive jokes and violence that happen outside of them.
Allyship and unity do not mean simply supporting something through words, but belonging to a community and fighting for its benefit in solidarity. Empathy, responsibility and support without compromise are intertwined with allyship.
By questioning the roles of allyship and support so far, we hope to contribute to a wider open-mindedness and more visible support in everyday life, in which LGBTIQ+ people will receive security and support to live their authentic lives in all spheres of life – family, work, school, relationship spheres and so on.
Allyship is mutual and must exist as such. Allyship, as well as solidarity, is very important, not just in the LGBTIQ+ community but in the Bosnian and Herzegovinian society in general, and that is why we chose it as this year's theme of the BiH Pride March. We want our society to possess voluntary social cohesion and readiness to help and support every person who requires it. As we walk on the 24th of June for the rights of LGBTIQ+ people, let us walk every time someone is disenfranchised.
About this year's slogan – Proud Together
This slogan has multiple meanings. Being an ally should and must reflect pride. As it is strongly displayed by LGBTIQ+ people, whose show of pride is criticized and problematized on a daily basis and attempted to be replaced with shame, pride must be a central segment of the struggle. Because we cannot allow anyone to feel ashamed of who they are. That's why allies can lead by example and clearly and loudly show that they are proud to support their fellow citizens who are LGBTIQ+ people.
Proud together signifies great strength and unity. Being united means building a society in which diversity represents richness and contributes to a better and healthier society, in which communities are brimmed by solidarity, support and acceptance. And not by rejection, hatred or exclusion.
For this reason, let us show that we are Proud Together and march on the 24th of June 2023 on the fourth BiH Pride March.
General and safety instructions
Get the latest updates and stay informed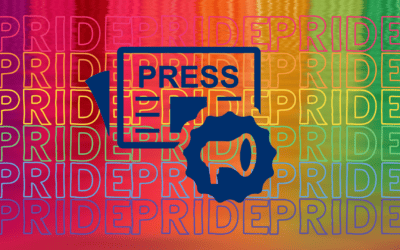 Četvrta Bh. povorka ponosa će se održati 24. juna u Sarajevu pod sloganom "Ponosno zajedno".  Pozivamo novinare_ke, snimatelje_ke i fotografe_kinje da nam se pridruže i izvještavaju o ovom značajnom događaju za bh. LGBTIQ+ zajednicu! Ako dolazite u timu sa kolegama iz...
Members of the Organizing Committee 2022:
Admir Adilović, Albertina Šutalo, Alija Osmić, Anisa Pračić Šehić, Anja Bilanović, Asiya Mahmutčehajić, Azra Ćulov, Branko Ćulibrk, Dalibor Tanić, Damir Pejčinović, Delila Islamović, Dina Bajrektarević, Džejla Živojević, Ensar Tahić, Imane Bellaadem, Irma Beširević, Ivana Arapović, Jadranka Miličević, Lejla Huremović, Melika Mundžić, Merima Mustafić, Mirza Halilčević, Nikolina Milinković, Samra Šuškić-Bašić, Tijana Ševo.
FOLLOW US ON SOCIAL MEDIA